Summer is coming! What are you waiting for? 2 pack of Adjustable Outdoor Patio Chaise
Views:5 Author:Fannie Publish Time: 2020-01-08 Origin:Site

Summer is coming! What are you waiting for?
away from tiring work, close to fascinating nature
Our cozy lounge chairs are upgraded, which feature more advantages. You can lie back and feel nearly zero pressure on your muscles and joints. With a durable metal frame and textilene mesh fabric, this recliner will become a functional part of your daily life. The adjustable backrest allows it to be multifunctional, and is perfect for sleeping, napping or seating.
Durable steel construction against crack or bend

Lightweight but with great weight capacity: 360lbs

More comfort when lying with arms on the armrests

5 adjustable positions to make you more relaxed (21.0''/26.4''/31.1''/35.5''/38.6'')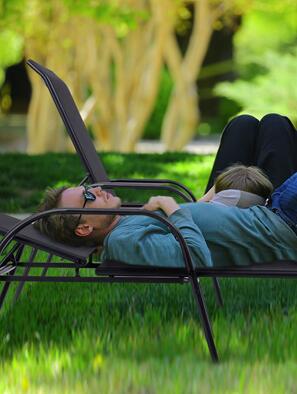 About the Textilene
It's a high-quality fabric suitable for indoor and outdoor use. It comes with smooth surface and keeps cool in summer. It's UV-resistant and flame-resistant. It's water proof, oil proof.